Maybe you're thinking...
"I've always wanted to learn how to play the guitar."

"I tried learning guitar before, but it just didn't work out."
"I know the basics on the guitar, but I want to learn more."

But why is it going to be different this time?
"It's been so long since I picked up my guitar. I don't even know where to start."
"How do I practice? I want to stay consistent, but what I'm doing isn't working."

"I really want to play songs I love on guitar, but I don't have the tools to learn them."
"I don't know how to learn guitar because I can't read music."

This time, we'll take on your guitar goals together.

I designed this course to guide you through every step of learning the guitar. (Really, every step - our first lesson is putting strings on the guitar.)

This course meets you where you are now, helps you master the building blocks of guitar, and gives you the tools to become self sufficient at learning how to play guitar.
If you're ready to commit and learn how to play guitar, this course is for you.
By the end of this course, you will:
Read guitar TABS, fretboard diagrams, and basic rhythmic notation
Use the CAGED chord shapes to unlock any chord on the guitar, allowing for total flexibility and understanding of the guitar neck
Improvise your own melody lines and riffs
Feel confident playing rhythm and lead guitar
Utilize guitar techniques to add style to your playing: hammer-ons, pull offs, bends, slides, string muting, finger picking


By popular demand, this course will also teach you:
Basic guitar maintenance
How to build and maintain healthy guitar habits
How to use a pick
How to easily play barre chords
Scales (major, minor, pentatonic, blues) and how to use them
How to build a practice and warmup routine

In the Shed
The Authentic Guide to Playing Guitar
Course Curriculum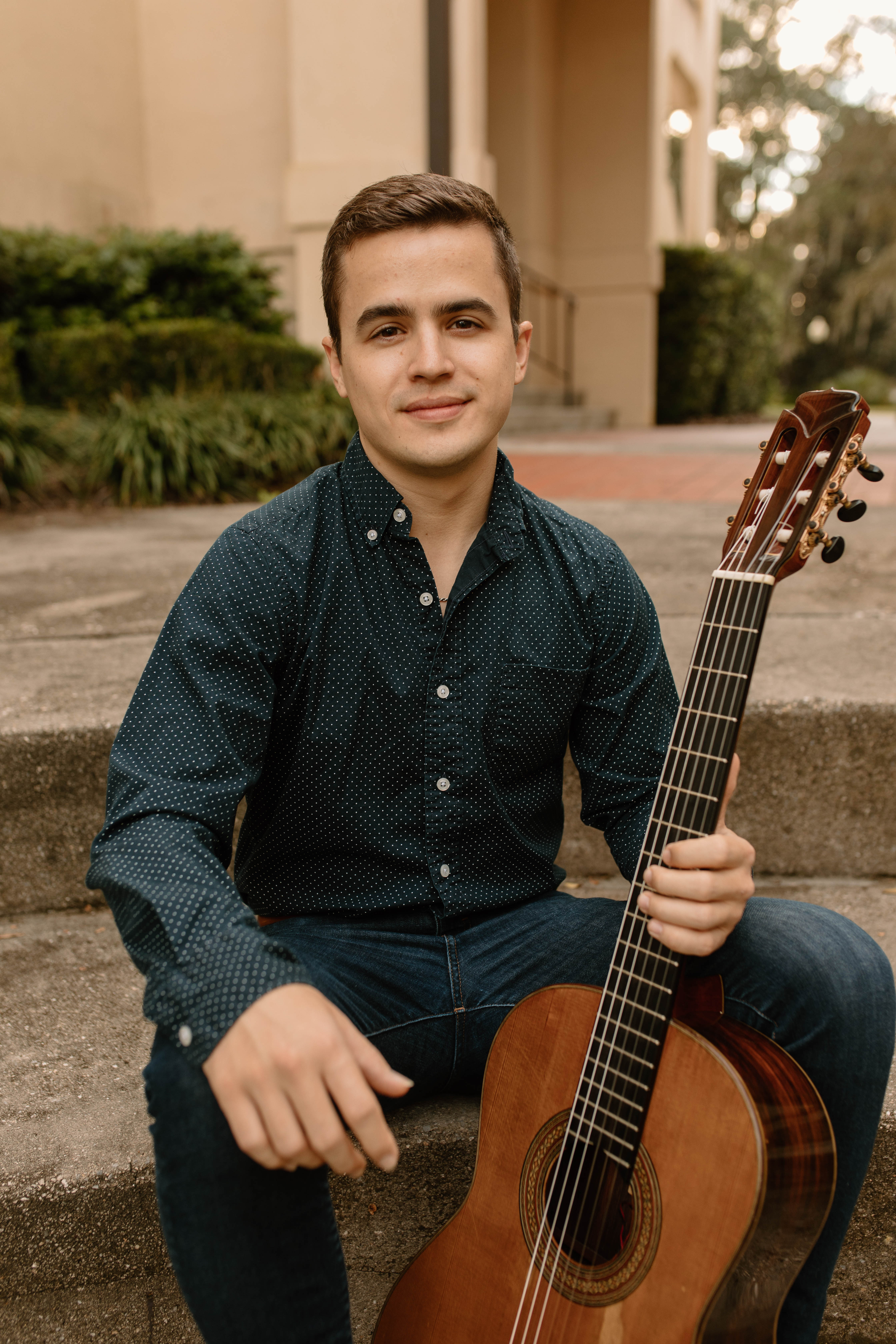 Meet Your Instructor
Erik Abernathy
"With 18+ years of guitar-playing experience, I'm so excited to share what I've learned with you and kickstart your guitar journey."
Erik Abernathy is an award-winning guitarist, upright bassist, and arranger with a unique style inspired by genres including Brazilian music, Hot Club Jazz, classical guitar, Bebop, rock, and blues. The breadth of his styles reflects his having played and studied with many renowned guitarists including Hot Club Jazz guitarist, Lulu Reinhardt, Brazilian guitarists, Ulisses Rocha and Yamandu Costa, Grammy nominated guitarist, Diego Figueredo, and world-renowned guitarist, Sergio Assad. 
Erik is the guitarist for the music duo, Giselle and Erik, who most recently spent nearly five months entertaining for the Walt Disney Company on the Disney Dream. In back-to-back years, Erik was recognized by the international DownBeat Student Music Awards for his work in the Vocal Arrangement and Latin Group Performance categories at the graduate level. He was also 2020 jazz finalist for the Wilson Center Guitar Competition and Festival.
Erik holds a Master of Music degree with a focus in Jazz Studies and a Bachelor of Science in Electrical Engineering from the University of Florida. He has over 10 years of experience as a private music instructor and has also taught collegiate-level courses at the University of Florida in jazz theory, jazz improvisation, and music media.
Learn more about Erik at www.erikabernathy.com.

Course Package
Once you enroll, you'll have immediate access to Modules 1 through 5. Modules 6 through 15 will be released to you during Spring 2023. The course package includes:


On-demand Video Lessons

PDF Downloads: Sheet Music Exercises and Guitar TABs

Play-Along Backing Tracks

Practice Plans to direct your practice sessions


Bonus Pro Tips

Grandfathered into future course updates


Access to 18+ years of guitar knowledge and resources

Frequently Asked Questions
What do I need before enrolling in the course?
All you need is any kind of 6-string guitar and a passion for learning to play it.
I've never played guitar before. Is this course for me?
YES. We'll start from the very beginning, like putting strings on and tuning your guitar. Then we'll move into making your first sound, and you'll be playing as early as Module 2. I'll be guiding you through each step.

I already know some guitar basics. Is this course for me?

YES. This course introduces more advanced concepts like improvisation and my method to complete fretboard flexibility. This course is also a great way to refresh and master your foundational guitar technique.


Do I need to know how to read music?
NO. We'll learn how to read guitar TABs, fretboard diagrams, and basic rhythmic notation.

Have other questions?
Email [email protected] with additional questions. Our team is happy to help you.

Don't miss out on these $$$ savings! Here's why...
Typically, you can expect to pay between $40 to $70 per lesson with a private guitar instructor. That means 6 months of weekly lessons would cost up to $1,800. One year of lessons would cost up to $3,600. This only includes the 1 hour of time you have access to your instructor per week.
Once you enroll in this course, you'll have on-demand access to the lessons and additional course materials at any time -- no more paying for cancelled lessons or having to juggle schedules.
Bottom line: This course is saving you hundreds (if not thousands!) of dollars while teaching you to successfully play guitar.